Aloe Vera Gel 100%
$18.99
Aloe Vera Gel is high in minerals, amino acids, fatty acids, vitamins A, C, and E. If you've ever suffered from annoying scalp conditions, this is for you. It is antibacterial, antiviral, and antiseptic. It is one of the most effective hair gels for scalp treatments because of its soothing, healing, and moisturizing properties. Relieves symptoms of seborrheic dermatitis, including redness, scaliness, inflammation, pain, and itching. The treatment promotes skin rejuvenation, improves blood circulation, and stimulates hair growth. For all hair types and textures.  Our bottles are made of recyclable PET materials.
Description
What is it?
Aloe Vera Gel 100% is another one of natures gifts with proven benefits for hair care the natural ingredients protect against dandruff, help control fungal infections in the scalp, cleanses the scalp of excess residue from other hair products which can block hair follicles and lead to hair loss, also helps balance an over production of sebum which leaves hair looking and feeling greasy.
---
Ingredients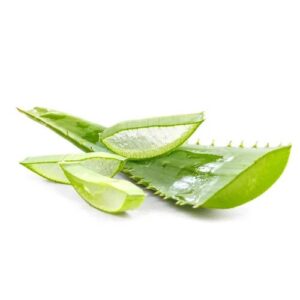 Aloe Vera Gel 100%
---
How does it work?
Aloe Vera Gel has been used for centuries known for its healing and regenerative properties, it offers potentially 75 active components, minerals, vitamins, amino acids, enzymes, folic acid, choline and other natural ingredients.
It cannot cure dandruff caused by skin conditions like eczema, psoriasis, dermatitis, or seborrhea. However, aloe vera gel has antioxidants, antimicrobial, antibacterial, antifungal, and anti-inflammatory properties that will reduce the symptoms, frequency, and severity of dry scalp and dandruff.
Once applied to the scalp the aloe vera gel penetrates the follicles increasing blood circulation to the area, it reduces pain, inflammation, itching, flaking and encourages skin rejuvenation.
Apply aloe vera gel to the scalp for a cooling and soothing effect as it works to moisturize and to increase blood flow to the area. The active components penetrates the follicles to accelerate the healing process.
There are distinct types of scalp conditions that are secondary to a variety of causes, so, for other severe scalp conditions please consult your healthcare provider.
No Parabens, Sulfates, Mineral Oils, Silicones, Gluten, DEA, Synthetic Fragrances nor Dyes.
---
How to Use
For best results apply 2 – 3 times weekly, can be applied to wet or dry hair to improve hair health and growth. When used continuously, the chances are exceptionally good that you will achieve the effects that you desire.
Other ways to apply:

Massage Aloe Vera Gel 100% into your scalp to nourish hair, and make sure to put some on your ends, it does not require much, if you overdo it just dab excess with a clean dry towel. It is a great leave in conditioner and moisturizer to help strengthen and protect your hair.
Wash out after an hour, or leave-in as an overnight treatment.
---
At a glance
Natural medicinal plant

Contains 75 active ingredients

Vitamins, minerals, amino acids, and more 

Can't cure dandruff but helps relieve symptoms that causes it

Increases healing rate of a variety of skin conditions

Calms an itchy scalp

Reduces inflammation

Antibacterial, Antimicrobial, Antiviral, and Antiseptic

Antioxidants safeguard against sun damage

Increase blood circulation to strengthen hair

Great moisturizing properties

Nourish hair follicles and hydrates scalp 
Our products are safe to use, however, some people may have a nut allergy or are allergic to other ingredients, it is always a good idea to do a test patch on the inside of wrist to rule out any possibilities of an allergic reaction before using it on your body.  This product is a topical application only, not intended for oral consumption.  If swallowed, get medical help. Keep out of reach of children and please recycle.
Additional information
| | |
| --- | --- |
| Weight | 0.5 lbs |
| Dimensions | 6.18 × 2.08 × 6.18 in |
| Size | |
Only logged in customers who have purchased this product may leave a review.